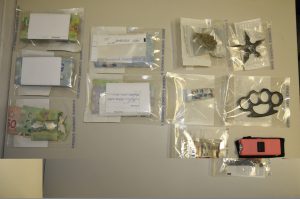 Mounties believe they have shut down a suspected chop shop in the Moose Lake area. They were led to the rural property on September 4th by a tip about a stolen vehicle.
The investigation led to a search warrant, and police say they found a vehicle that was being taken apart. Officers also seized multiple prohibited weapons like a stun gun and brass knuckles, roughly $5,000 in cash, marijuana, and steroids.
A man and a woman from Edmonton were arrested and charged with multiple offences. They have both been released from police custody with conditions and should be back in court in December.
Another suspect is still wanted and a warrant has been issued for the arrest of 39-year-old Allen Rodney Hunter of Saddle Lake. Anyone with information on his whereabouts is asked to contact RCMP or Crime Stoppers.