A delegation from Glendon School went to the MD of Bonnyville Council today looking for help in making huge improvements to the field behind them.
The delegation gave each councillor a green duotang highlighting the plans for the Glendon Outdoor Leisure Development or "Green and G.O.L.D" project as well as some photos of what the field looks like right now. Looking at the pictures, the word "derelict" come to mind.  Rusted out playground equipment, basketball hoops with no backboard or netting and a completely unusable beach volleyball court are among the signs of an area that desperately needs improving. Even a relatively simple activity like running often involves students having to travel somewhere out of town or running on the road.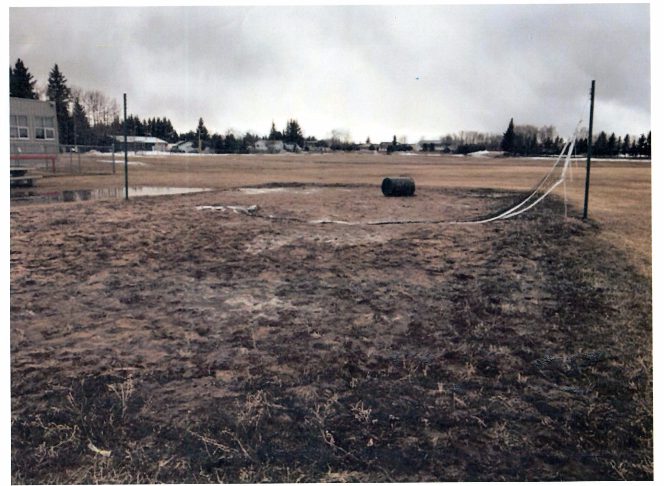 "Our school has won seven straight provincial track championships," said Athletics Director for the school Daryn Galatiuk. "Once you see what we're dealing with, our kids are remarkable. Imagine what they could do with more facilities."
The school hopes to construct a four lane shale track in the field with a football/soccer field in the middle. Upgraded baseball diamonds, throwing pads for shotput and discus throwing , a high jump and pole vault area and an actually usable volleyball pit are part of the plans. A private landowner nearby has also agreed to have some of his property turned into a nature trail.
However, there are some obstacles. The field is uneven and will have to be completely leveled and a drainage ditch for half the village runs right through the middle of it. The school is considering building bridges or installing a culvert to deal with the issue, but nothing is for sure yet.
CAO Chris Cambridge told the delegation that the MD would some staff to the school soon to at least look into the logistics of dealing with the ditch and get a better grasp on the situation.
The school estimates the project's overall price tag to be at $315,753.40. They've gotten some support from Northern Lights and a few grants, but not enough yet.