St. Paul RCMP is looking for help locating 17-year-old Chance Large. 
The young man was last seen on Aug. 13, 2023, at 12:30 p.m. and police say he may be headed to Saddle Lake. 
Chance Large is described as 5 foot 9 inches, weighs about 140 pounds, and was last seen wearing a black zip-up hoodie, black pants, and black and white Nike high tops.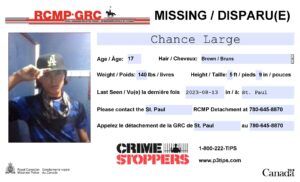 Anyone with information regarding the whereabouts of the 17-year-old is asked to contact the St. Paul RCMP at 780-645-8870 or Crime Stoppers by phone at 1-800-222-8477.