Cold Lake RCMP is asking for public assistance in locating 40-year-old John Blair Cardinal after he was reported missing.
The resident of Frog Lake, Alta was last seen on April 15, walking in downtown Cold Lake. RCMP says there is a concern for his safety and well-being.
Cardinal is being described as 5 feet 9 inches tall weighing about 180 pounds with brown short hair, brown eyes, and a clean shave.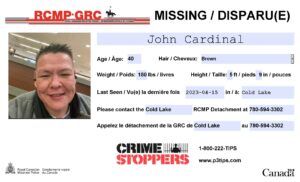 Anyone with information on Cardinal's whereabouts is asked to contact the Cold Lake RCMP at 780-594-3302 or your local police.