Update: RCMP has located Aaron Hulland safe and would like to thank the public for their assistance.
Cold Lake RCMP says 46-year-old Aaron John Arthur Hulland of Cold Lake has been reported missing and officials are asking for the public's help in locating him.
Hulland was reported missing on March 29 and was last spoken with on March 20, 2023, at 8 a.m.
RCMP says there is a concern for his safety and well-being. Aaron Hulland is described as having a fair complexion and stands about 5'11" with a bald head, blue eyes, and full-sleeve tattoos.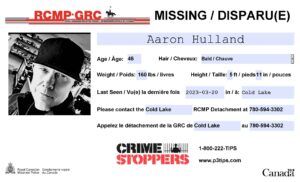 Police are asking that anyone with knowledge of this incident contact the Cold Lake RCMP at 780-594-3302.