Lac La Biche RCMP is looking for help gathering information about a pointing of a firearm incident on March 20th at approximately 2:00 p.m.
The investigation is ongoing and RCMP say two males one in his 20's, another in his 40's and a female in her 30's are believed to have pointed a firearm out of the Chevrolet Silverado at a white SUV. The occupants of the Chevrolet are being considered armed and dangerous and the public is asked not to engage, and to call police if observed.
Police are looking for a lifted Chevrolet Silverado dark in colour with chrome running boards, tinted windows and silver rails along the bed of the truck.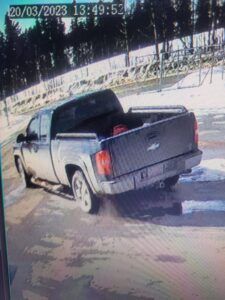 Anyone with information into the identities of those on board the vehicle, their location or what led to this incident is asked to call Lac La Biche RCMP at 780-404-2500 or your local police.