After an investigation into a break-and-enter on February 5th Bonnyville RCMP were able to locate the suspect's residence and arrest a Bonnyville man.
33-year-old Patrick Schmold of Bonnyville was arrested and is charged with three counts of Possession of Stolen Property Over $5000 and one count of Possession of Methamphetamine. He is set to appear in Bonnyville court on April 25th. 
RCMP's investigation lead officers to the suspect's residence at a local trailer park. Officials obtained a search warrant for the residence and located all the tools belonging to the victim's business alongside several other high-value items like a Kubota tractor that had been stolen in July 2022 and various Husqvarna, Dewalt & Milwaukee tools. 
The estimated value of the tractor and all other stolen property is over $40 000.00 and belonged to three different victims from separate thefts. 
Of the 19 stolen tools recovered, all but 1 were returned to their rightful owner.  RCMP is looking for the owner of a Milwaukee circular saw which has the initials "SP" written on it.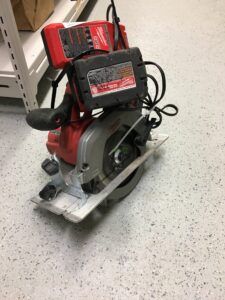 The saw also has a distinguishable engraving.  If you think this may be your stolen saw please contact Cst. Toor of the Bonnyville RCMP.