Two people were injured in a stabbing in the area of Cold Lake and have been sent to an Edmonton hospital.
Cold Lake RCMP received the report on January 23 and charged a resident of Cold Lake First Nation Daidien Jewel Desjarlais with, Aggravated assault, Break and enter with intent, and Possession of a weapon for a dangerous purpose. He appeared in front of a Judge and was remanded in custody.
A second resident of Cold Lake First Nation Tealyn Jason Marten has also been charged and RCMP is seeking public assistance in locating him.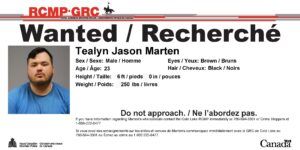 Anyone with information regarding the whereabouts of Marten, you are asked to contact the Cold Lake RCMP at 780-594-3301.