The City of Cold Lake is hosting an informal Open House tonight at the Lakeland Inn.
The City staff and elected officials will be available to answer questions from 6:00 – 9:00 pm. Multiple events like this have been hosted in the past but with a specific topic up for discussion.
Cold lake's Mayor Craig Copeland says the city tries to have an open house every 18 months. 
"We are going to have a lot of boards with information and all of the council will be there so everyone gets a chance to pick their brains for any questions."
Mayor Copeland will open the evening and give some updates on capital projects and things the council have worked on for the last 18 months and then open the floor to everyone else. 
"I hope people will come out. We get a lot of emails coming in and this is an opportunity for them to ask the question face to face. Maybe it's snow cleaning, maybe its taxes, maybe its water sewer questions. Really we just want to be very transparent."
Mayor Copeland says he is expecting some questions about the Municipally Controlled Corporation to rise during the night.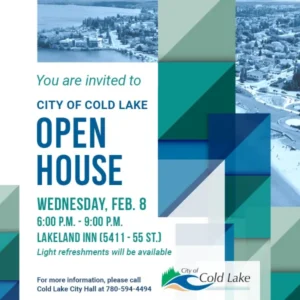 Registration will not be required for this event.