UPDATE: St. Paul RCMP have confirmed that Corrigan Anderson has been located safe and unharmed.
Corrigan James Anderson has been reported missing and St. Paul RCMP are asking for help locating him.
RCMP says Anderson was last seen in St. Paul leaving his residence at 7:30 p.m. on Jan. 4, 2023. There is a concern for his safety and well-being. Police would like to speak with Anderson and are sharing the following details to assist in locating him.
Corrigan James Anderson is described as the following:
5'11" tall

170 lbs

blue eyes

shaved head – picture does not reflect shaved head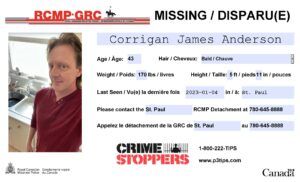 Anyone with information on the whereabouts of Corrigan, please contact the St. Paul RCMP at 780-645-8888