The Cardinal Family is asking for help after a fire took away everything.
On November 15th the family was preparing supper when the kids noticed the smell of smoke in another room. Claudette Cardinal says she remembers her child alerting her to the sight of smoke.
"When I opened the bedroom door there was nothing but black smoke," Claudette says she took her kids out of the house and they called emergency services and watched. "We just could not believe how fast our house burned down."
Claudette says by the time emergency services got there, it was too late to save anything.
"We lost everything in the fire. I lost all of my belongings and the kids lost all of their things."
Lynne, a close family member, says Claudette, her spouse & kids left the house and forgot their winter jackets in a hurry.
"The family is devastated and still in shock."
A Go-Fund-me has been set up for the family and donations are being accepted.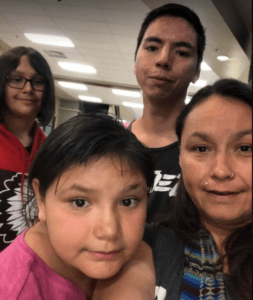 Physical donations can be dropped off at the following locations:
Kikino Drop off location at Cecile Hope's residence at 63113 highway 36. Contact 780-404-4220 for more information.
Bonneville Drop Off at Tammy Gunnz Sunshine's residence at 4205 46 st south. Contact 587-568-7072 for more information.
Lac La Biche Drop off locations have not yet been finalized as of right now.
Plamondon Drop off at Forbes' Residence (which can be given upon message to Lyn)
Lynne Cardinal says the family is in need of clothing and toiletries but anything and everything is appreciated. Any questions about donations can be asked to Lynne at 780 404 7096 or through Facebook here.