The Bonnyville Centennial Centre has a new video score clock for the Pontiacs and everyone in the RJ Lalonde Arena.
The new clock can display replays, hits, save, and much more. In total, the clock costed $296,000 with the Pontiacs, Centennial Center, and Town Council all partnering up to upgrade the clock.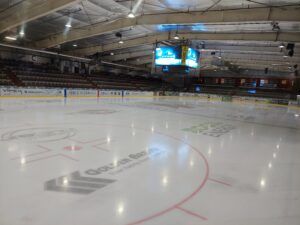 Les Parsons the General Manager at the Centennial Centre says this is a big new addition to the C2 center.
"This is just a real value-added project for the c2 as a whole. obviously, the Pontiacs, the minor hockey, skating, and curling if we ever get to that point, and then in the summer we can host some oil and gas shows."
Parsons says The Associate General Manager for the Pontiacs Neil Langridge was a massive help in getting the clock where it is today. Langridge says a lot of AJHL teams are upgrading their score clocks to a video score screen to increase funding through advertisements and increase the fan experience.
"This puts the Ponytiacs and the Centennial center right in front of the other facilities in the AJHL and that is huge for the community of Bonnyville."
He said they are still adding new features and looking to add new cameras for different abilities for replays.
The new clock was in the works for about two and a half years with Covid-19 impacting shipping times and delaying the reveal. Town of Bonnyville Councillor Byron Johnson says the reveal was worth the wait.
"I know walking in here as a kid from the Jr. B games before we were Jr. A and we saw the old big score clock we thought we were big time, well now this is like walking in and looking at the real thing."
Johnson says it really adds to the facility in the best of ways.
"For us as a Board, it was a no-brainer partnering with the Pontiacs and increasing the fan experience and opening us up to more events."
The clock is active right now and anyone can see it in action during the Pontiac games.