17-year-old Brayden Roberts-Kowalchuk has been reported missing and Bonnyville RCMP is seeking public assistance in locating him.
The missing teen was last seen in Glendon on October 4th and RCMP says there is a concern for his safety.
Brayden is described as:
· 5'4 and 135 lbs
· Blonde hair and brown eyes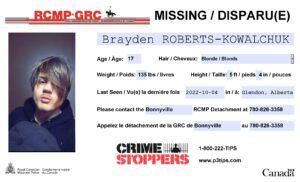 Anyone with information in regard to Brayden's whereabouts is asked to contact the Bonnyville RCMP at (780) 826-3358.