Jacqueline Rae Dallaire was last seen on May 14 and Parkland RCMP is seeking the public's assistance in locating her.
Police are hoping to verify her well-being and were believed to be in the Edmonton area traveling with her dog. There is a concern for Jacqueline's well-being.
Jacqueline, who goes by the name Jackie is described as follows:
5'6"
140 lbs
Dark Brown hair
The dog is described as beige in color and a mixed breed.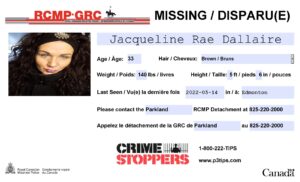 Anyone with information about Jacqueline's whereabouts is asked to contact Parkland RCMP at 825-220-2000 or your local police.