Updated April 24th 2018
Bonnyville RCMP are saying they've caught a suspect in connection with the pair of robberies. Police are saying that an investigation and search warrant has lead them to arrest a 26 year old man in connection with the crimes. Mounties say they also found evidence from a few thefts in early April from another town liquor store as well.
The 26 year old is facing charges including theft under $5000 and assault with a weapon among others. He'll be due in Bonnyville Provincial Court on May 1st.
=======
The Bonnyville RCMP is asking the public to help name two suspects in a pair of separate liquor store robberies. Mounties are saying on April 7th just after 11 pm, a man wearing a mask walked in to the Liquor Depot in Bonnyville armed with a knife. He demanded cash from the register, then fled on a bicycle.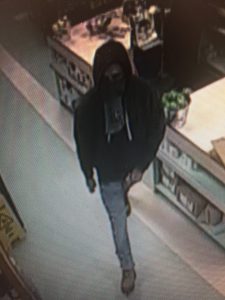 Police describe him as an aboriginal man, about five-foot seven inches tall with a slim to medium build and brown eyes. He was wearing a grey sweater, blue jeans, brown shoes or boots and had his face covered by a grey cover.
On April 9th, Bonnyville police say another robbery took place. RCMP are saying a man entered the Liquor Mart on main street in town armed with bear mace. He then sprayed the clerk in the face and stole cash and liquor.
Mounties are saying the man was about 6 feet tall with an average build, wearing a black hoodie that covered his face with a white stripe down the arm, blue jeans, black shoes and was carrying a black backpack.
Anyone who may know anymore on the two robberies are being asked to call the Bonnyville RCMP at 780-343-7200 or Crime Stoppers